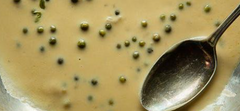 This delicious green peppercorn cream sauce will complement any steak or grilled meat. 
Ingredients:
1 teaspoon olive oil
1 tablespoon minced shallots
2 tablespoons of Madagascar green peppercorns ( available on MyTSIRO.com) 
2 tablespoons of butter.
2 tablespoons of brandy, preferably Cognac
2 teaspoons all-purpose flour
1 cup beef broth, preferably homemade
½ cup heavy cream
Salt, to taste
Directions:

1) Heat the oil in a medium skillet over medium heat. Add the shallots, green peppercorns and 1 tablespoon of the butter and cook, stirring occasionally, until the shallots have softened, about 3 minutes.

2) Remove the skillet from the heat, add the brandy and return to the heat. Cook until the alcohol has burned off, about 1 minute.

3) Add the flour and cook, stirring, until it has been absorbed, about 1 minute. Add the beef broth and increase the heat to medium-high. Simmer, stirring constantly, until the sauce has reduced by half, 3 to 5 minutes.

4) Add the cream and reduce the heat to medium-low. Simmer until the sauce has thickened, about 5 minutes. Stir in the remaining 1 tablespoon of butter to make it smooth. Season with salt. Serve with steak, duck breast,  pork chops or roast chicken.