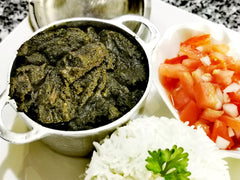 This recipe is courtesy of Iangotiana , a Malagasy chef based in Montréal & owner of Tia Sakafo private catering.  
You will need to taste this famous Malagasy culinary at least once in your life. This is one of the most appreciated Malagasy traditional dishes and a component of the seven royal dishes.
Preparation: 20 minutes
Cooking: 2 hours
Ingredients (serves 4):
200g of

 

MyTSIRO ground cassava leaves

Pork meat  ( pork shoulder is ideal ) cut in large chunks  500g

One garlic clove (chopped)

Vegetable oil 75ml

150ml coconut milk

Water

Salt

Sugar 1 teaspoon
Preparation:
The day before: In a large bowl, rehydrate the ravitoto (overnight) by adding about 1l of water
Cut the pork into pieces

Heat a pan with a tablespoon of oil. Saute meat until it is lightly browned

Add the chopped garlic, salt and mix and cook for 2 minutes.

Add the hydrated ravitoto and 1l of water, sugar, oil and the coconut milk

Simmer over low heat until the meat is very tender.

Feel free to add water if needed.

The dish is ready when the water has evaporated and the meat is tender.

The stewed preparation is served with rice and tomato rougail as main course. The combination is a reminder of the colors of the Malagasy national flag: white, red and green

.

Enjoy!